Location: Saddlerock Ranch Malibu
Season: October 2012
My wedding was featured on Rustic Wedding Chic!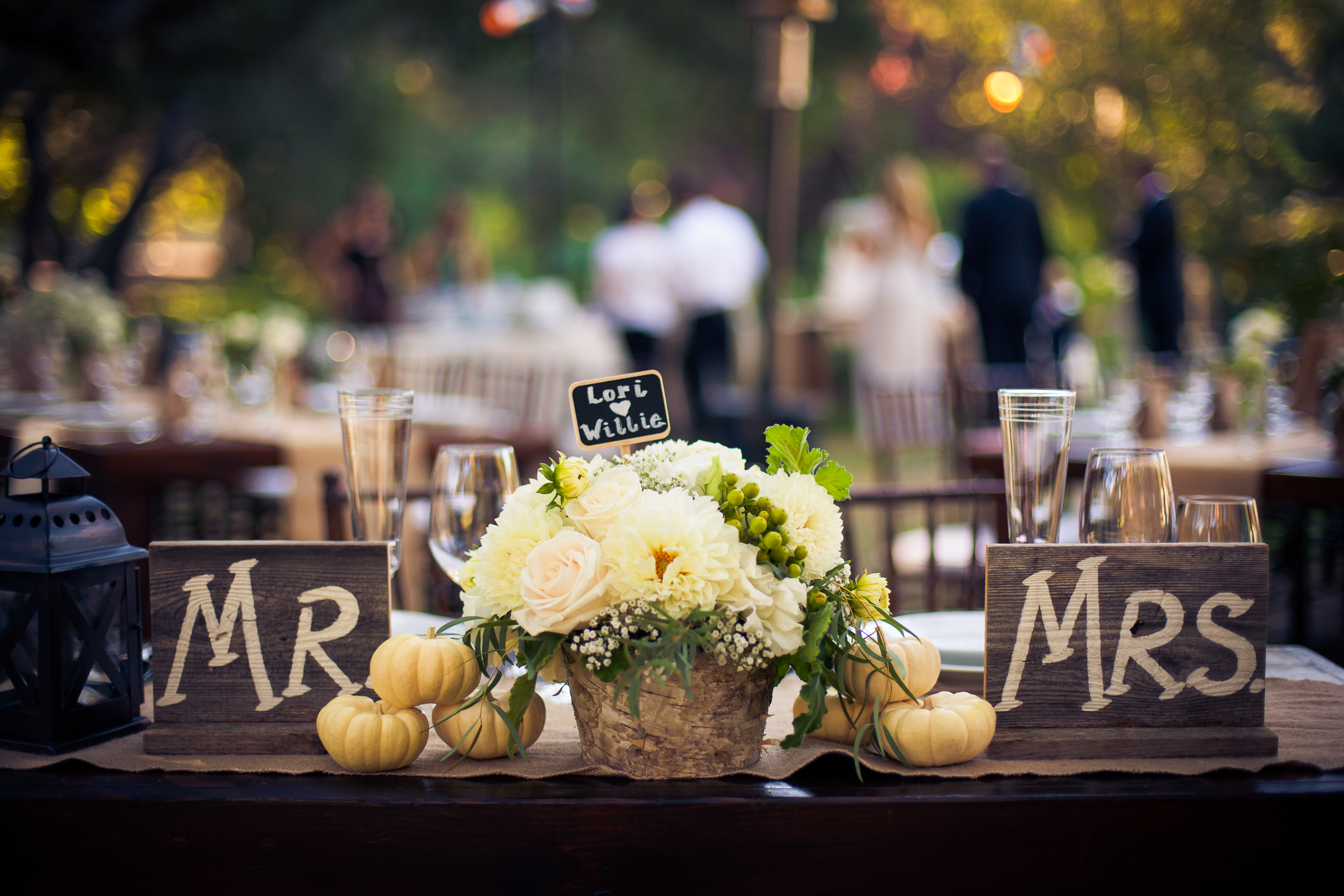 Event Venders
Wedding Coordinator: Kim Paolone
Photography: Zoom Theory
Lighting & Table Decor: Classic Party Rentals
Cakes: Charm City Cakes West
Cookies: Pastries a La Carte, Pittsburgh, PA
I certainly had a ball planning my rustic wedding! Two of our friends officiated our wedding – our good friend Robbie, and Amanda of Wilder Times Blog. Two became the them of our wedding, with 2 officiants, 2 Matrons of Honor, 2 Best Men, 2 wedding dresses, 2 cakes! – Haha! With the cost of weddings being outrageous, I tried to DIY where I could to save money. So here are a few things I did for my wedding that ended up making it all that much more special. Everything about our wedding was very personalized to us. I made and embossed our invitations and created and printed our unique programs and thank you cards. I crafted all other framed signage, from the scrabble Mr. & Mrs. sign to the history of the cookie table to the polaroid photo booth.
My husbands one wedding request was that we had viewfinders as our wedding invitation. (Uh, for sure!) To keep invitation costs down, I printed them myself and embossed them with stamps to give some texture. They were very simple, but the viewfinder was statement enough.
I found a cool idea on Pinterest to create and print our own programs. I used the Pages program to create it. It was very witty, funny and light hearted. Not formal. We are not very traditional, and did not have a traditional wedding.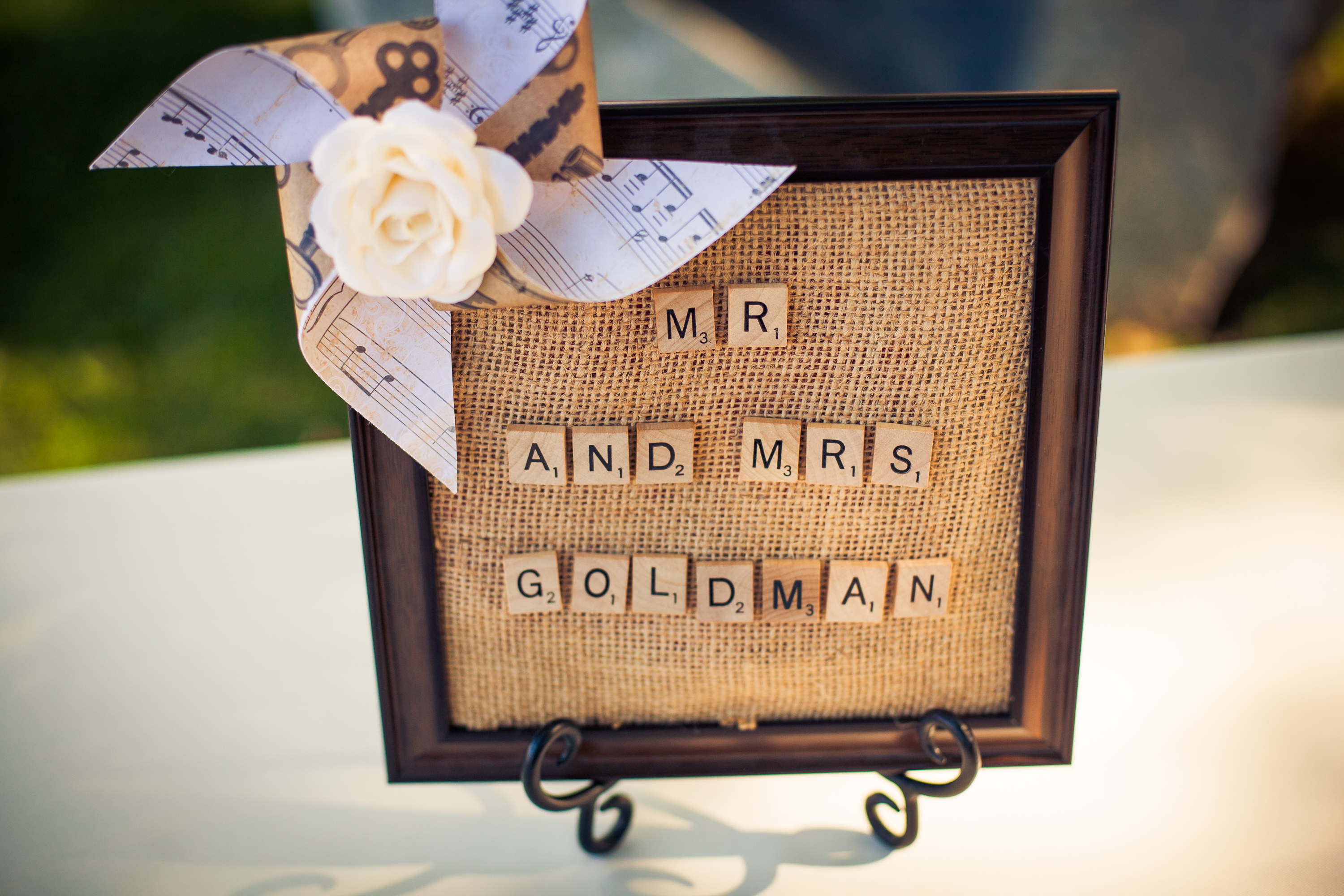 I made this sign using a frame from the Dollar Tree, scrap burlap that I had, scrabble letters and crafted the pin wheel to give it a rustic vintage feel.
I found this journal at Papyrus and hot glued scrabble letters on to make my own guestbook.
An old wooden ladder we had in our backyard that was destined for the trash made an appearance as part of our seating chart display. A perfect way to upcycle! Again, I printed out the seating chart cards, made them look like gift tags to hang and added a scrabble letter on the top of each card in alphabetical order. I made the "Find your name to find your seat" sign and pinwheel fan, and pinned them to a cork board I found at Marshalls.
There is a tradition in Pittsburgh, PA (my hometown) of having a cookie table at your wedding. My favorite cookie shop in Pittsburgh was able to ship all of the cookies across the country, and none of them broke! They are amazing! We had bags for guests to take some cookies home as well.
Lots and lots of cookies. I provided all of the jars, trays and trunks to display them.
My husbands favorite football team is the Ravens and mine is the Steelers. Yes, rivals. For better or for worse. =)
A friend of ours cut foam board into a polaroid photo booth that was hung from a tree. We had a polaroid camera and props for guests to use to take photos all night!
Subtle touches of Star Wars for my husband on our beautiful cake by Charm City Cakes West. Darth Vader was even peeking out of the bottom!
Personalized Grooms Cake – Slimer from Ghostbusters!
My husbands favorite holiday is Halloween. We go big. We even had our wedding in October as a nod to the month long holiday celebration, haha. Our wedding favors were paper bags of halloween candy stamped with "Trick or Treat" placed at everyones seat.
Here are a few more pictures to show you just for fun! Thanks for checking out my rustic wedding! Hope it gives you some inspiration!