How the Grinch Stole Christmas is a timeless theme each holiday season! I'm showing you how to turn a regular dinner into a Whoville feast with the help of Treetopia and Dylan's Candy Bar!
Discloser: Some of the links below are affiliate links. If you click through and make a purchase, I will earn a commission at no additional cost to you. See my Full Disclosure Policy here. This project is sponsored by Treetopia, but all opinions are my own.
Table Decor
I teamed up with Treetopia for my table centerpiece, by decorating their 12″ Mini Rainbow Gumdrop Trees with candy from Dylan's Candy Bar!
Treetopia Mini Rainbow Gumdrop Trees
Dylan's Candy Bar Aloha Rainbow Paint Can
Dylan's Candy Bar Chocolate Squares
Dylan's Candy Bar Fruit Basket Tackle Box
The candy I decorated with was Dylan's Candy Bar Assorted Chocolate Squares, Dylan's Aloha Paint Can and Dylan's Fruit Basket Tackle Box! Before setting up a Whoville feast, I added candy to my trees! Also remember to first fluff out your branches to make the trees look full! I used Christmas ornament hooks to attached the candy to the trees. For the gummy candies, I simply pushed the hook through the candy. For the chocolate squares, I pushed the hook through the outer paper wrapper. I absolutely love how the candy adds a pop of whimsy and color! For a tree topper, I used Grinch themed stickers from Oriental Trading. I thought the quality of the trees were wonderful and the colors were vivid and cheerful!
Roast Beast
I recreated the iconic Roast Beast from the movie How the Grinch Stole Christmas! I had my local grocer prepare this rib roast for me, because in my book, everything does not need to be home made! I used Peach Gummy Rings from Dylan's Candy Bar on the top of the roast. Around the sides, I placed fruit gummies from the Fruit Basket Tackle Box and Sour Pineapples. The finishing touches were the paper frills on the legs! I found mine on Amazon, and attached them with skewers.
Dessert Board
I started my dessert board by laying down colorful Dylan's Candy Bar Whirly Pops. My other goodies include: Dylan's Candy Bars in a variety of flavors, Marshmallow Smores Galore (my personal fave!), assorted chocolate squares, sour pineapples, Dylan's Aloha paint can and Grinch themed sugar cookies that I whipped up. My cookies were simply made with a bag of sugar cookie mix and adding in green food coloring. Using a red frosting pen from my grocery store, I drew on a heart after they cooled.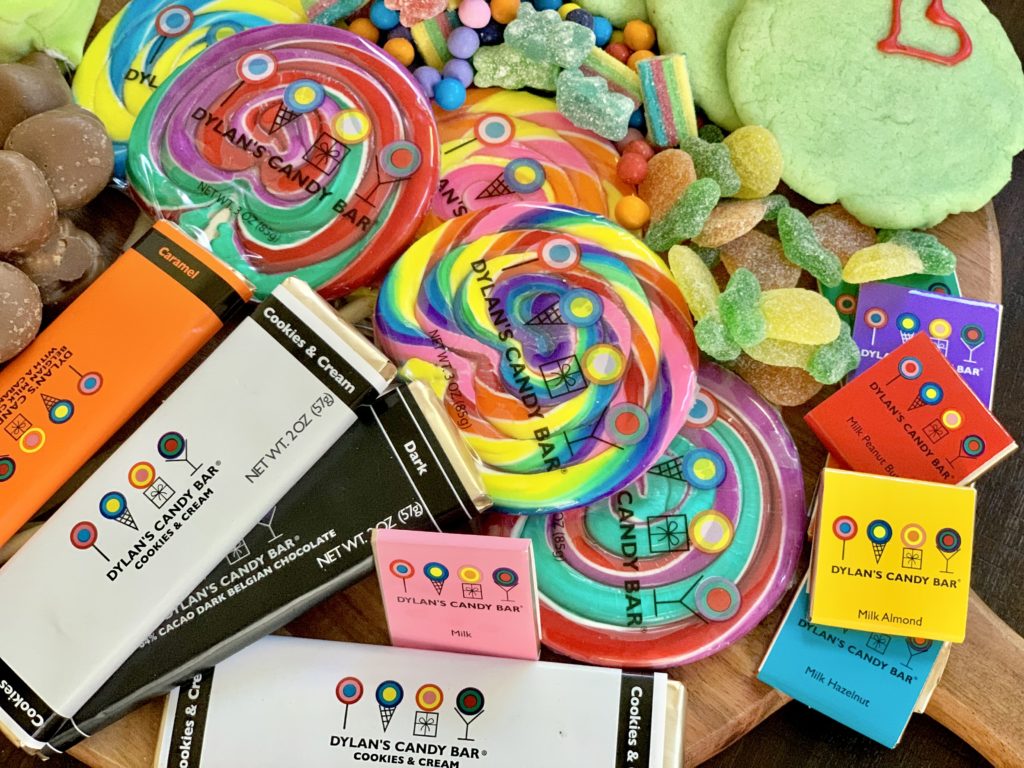 Table Setting
Red and white striped placemats bring the fun, while the Grinch themed napkins pull you into Whoville! I kept the setting simple to let the mini trees shine! I hope you enjoyed this Grinch themed party! A big thank you to Treetopia for sponsoring this post and to Dylan's Candy Bar for providing all the sweet candy! Will you be watching this classic movie this year with your family?!
Head to the full Youtube video to see it in action!