Friends are family, they say. My girlfriends and I put on a Boho-chic Friendsgiving party and I can't wait to show you all of the details! I took on the Dessert table. Amanda of Rusty Chic Decor did the Welcome table, Jenn of Pixels & Pop set the dining table and Lauren of Oh How Charming gave us an Appetizer station. Drinks were created by Jenna of Manners and Manhattans, while Caitlin of Cafe Everyday Sunday made the cutest home made Pumpkin Spiced Pecan party favors. Be sure to check out all of their stylings at the bottom of this post! Check out my Instagram account for a Friendsgiving giveaway coming November 5th!
Disclosure: Some of the links below are affiliate links. If you click through and decide to make a purchase, I will earn a commission at no additional cost to you. See my full disclosure policy here.
Backdrop
The dessert table was complete with classic pumpkin pie, chocolate mousse and a donut tower. Decor was whimsey with a mini balloon garland by Oh How Charming, DIY macrame and boho florals throughout. I added baby's breathe and tassels to the balloon garland. The white shag throw was actually a small rug from the kids' department of Target! You never know what you can find if you don't look! Feather bouquets were added to the floral arrangements to give that flow-y boho look. Florals are always from Trader Joe's!
Shop the look:
Desserts
As for desserts, dress up traditional store bought pumpkin pie with some flowers. I made home made chocolate mousse with chocolate truffle shavings on top. And the donut tower had my Apple Cinnamon Sugar Donuts as well as donut holes. Check my recipe for Apple Cinnamon Sugar Donuts. The gorgeous printable signs are by Jenn of Pixels & Pop!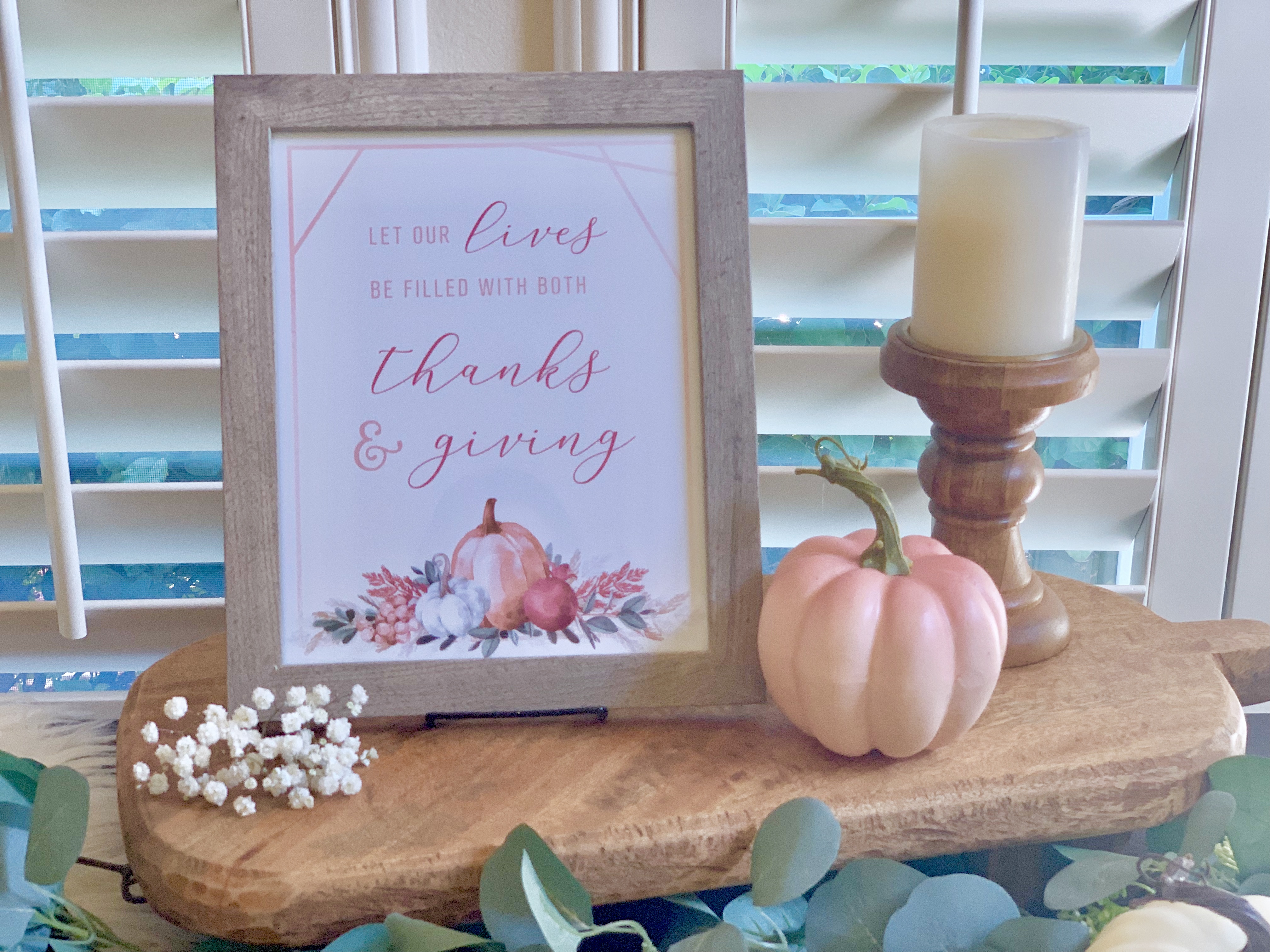 Hope you enjoyed the details! Check out the rest of the party below!
Rusty Chic Decor – Welcome table
Oh How Charming – Appetizer station
Pixels & Pop – Dining table
Manners and Manhattans – Fall sangria
Cafe Everyday Sunday – Party favors
PIN for later!
#friendsgiving #thanksgiving #boho