Looking to throw a chic but inexpensive party? Even if it's just for your family, you can do so with just simple, general party supplies like streamers, balloons and flowers from Trader Joe's! There are so many things you can do with streamers! Below I'll show you how to use streamers for a backdrop and a table runner, as well as a couple other easy ideas. Also, head to my Instagram, as we are debuting Head IN With Us! This months theme is "Summer Fun", which you will see that's what this party is all about! We've got a great line up of friends sharing inspo! At the end of this post, be sure to check out my friends Summer Fun ideas for a blog hop!
Disclosure: Some of the links below are affiliate links. If you click through and decide to make a purchase, I will earn a commission at no additional cost to you. See my full disclosure policy here.
PIN for later:
Backdrop Supplies
I knew I wanted these bright colors for a summer time party poolside. To start with my backdrop, I bought 99 cent streamers in hot pink, orange, teal, mint and peach.
Click here for the easy DIY streamer backdrop tutorial.
Another streamer idea I used was to put streamer pieces into a clear salad bowl and turn it upside down onto a wooden charger, creating a cake stand. You can see the streamers thru the clear bowl! You'll also see below, on the 2nd shelf of my table, that I used leftover streamer rolls and stacked them on a cake stand, creating a piece of decor. Make it whimsey by letting some of the streamer roll down the cake stand.
Table Setting
For my table, I ran all of the colors of streamers down the center of the table to create a table runner. Then on one end, I let the streamers over flow into a pool at the ground! All of my flowers only cost $29 total and were from Trader Joe's! The english garden roses and dahlia's were the show stoppers!
On the table: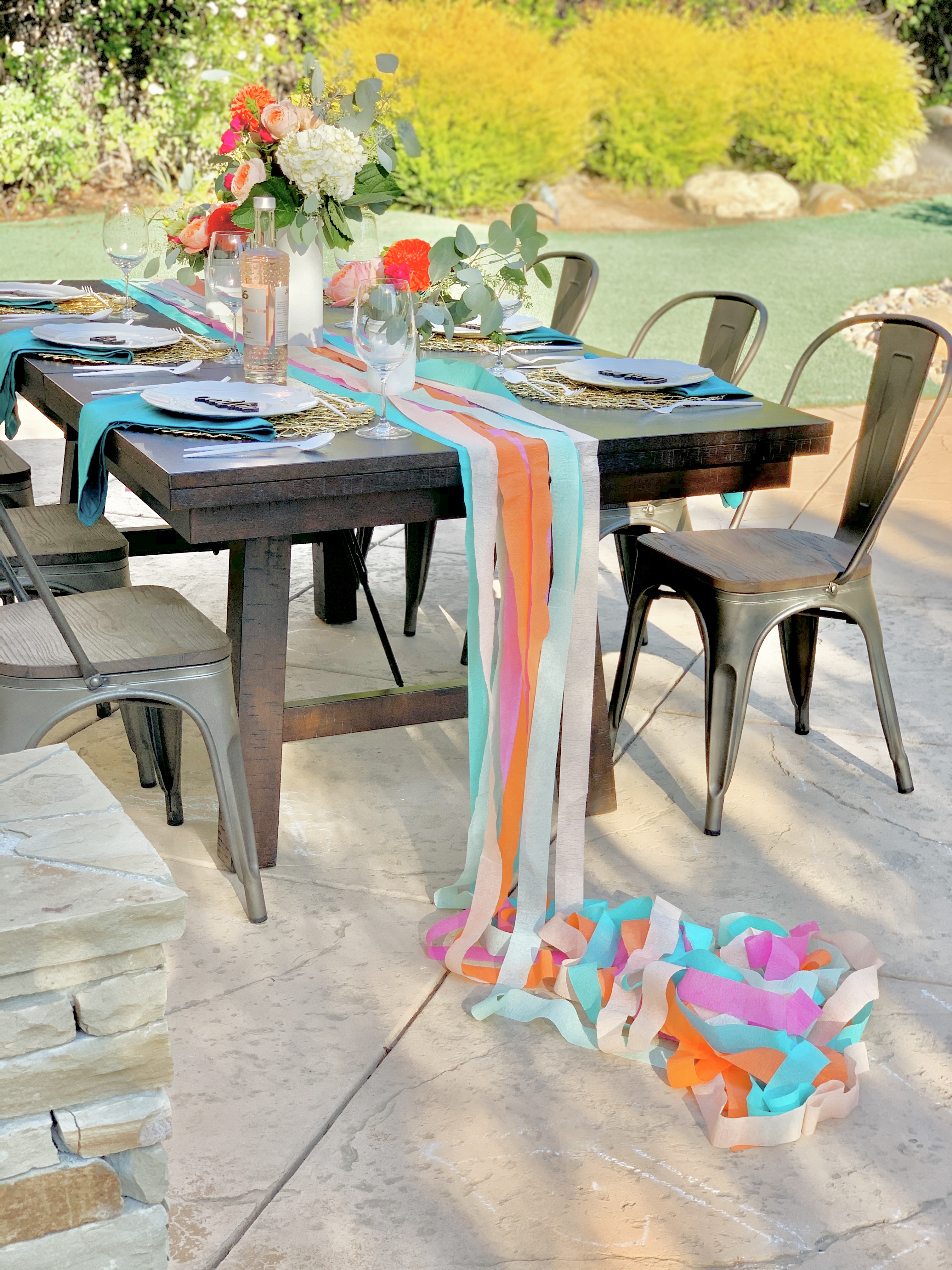 Cocktail
My Signature Cocktail for the evening was ABK6 Rosé Vodka with Belvoir Elderflower and Rose Lemonade! OMG. It's sooo refreshing! Definitely a summer must try! I set my bar cart poolside with a coordinating balloon garland and more florals! I wish you all could have been here! It was the dreamiest birthday party I could have had, even though it was social distancing and only celebrated with 1 family. Someday we will party with all of our friends again! I hope you enjoyed my streamer party ideas and cocktail! How will you be celebrating this summer?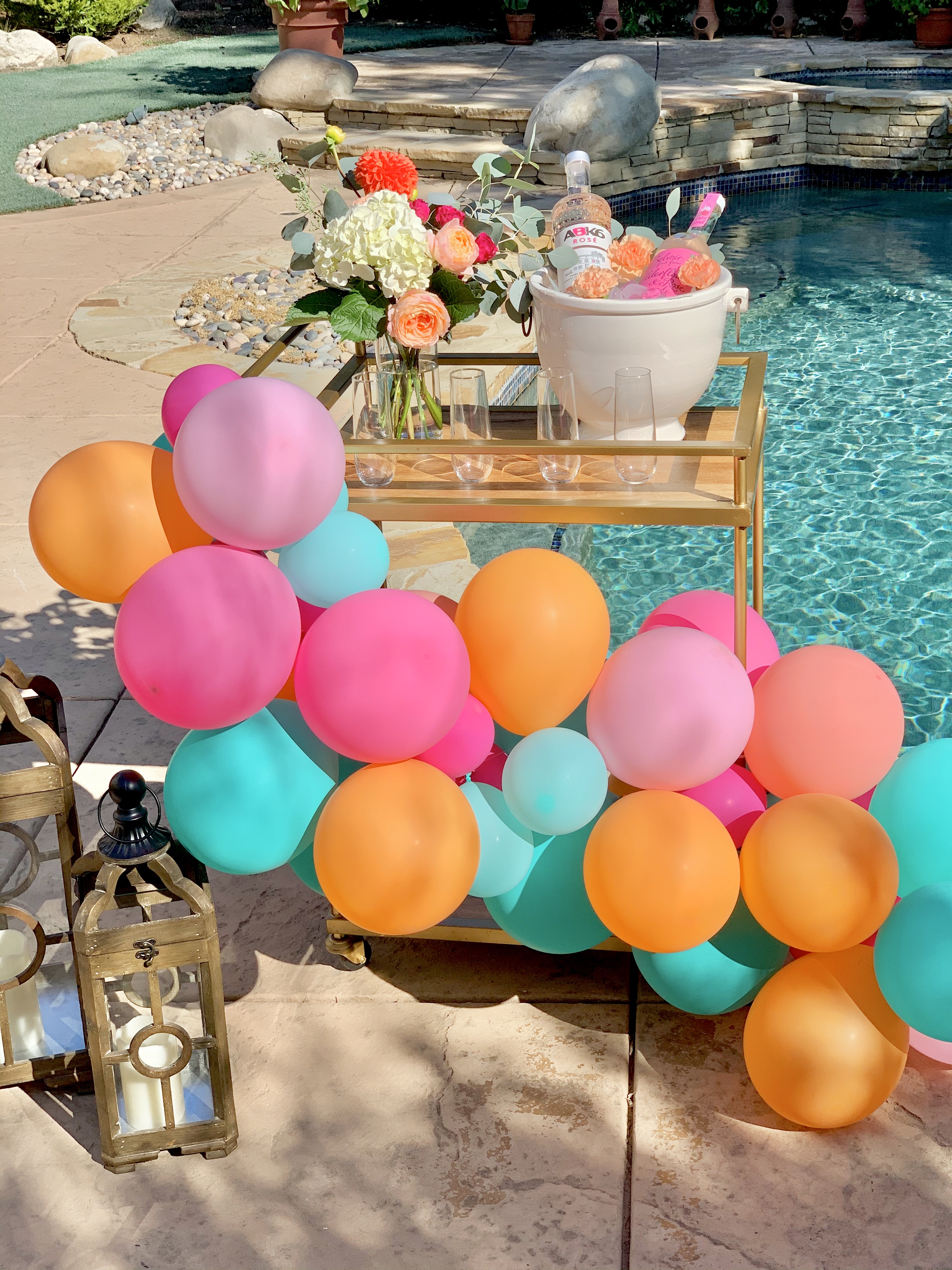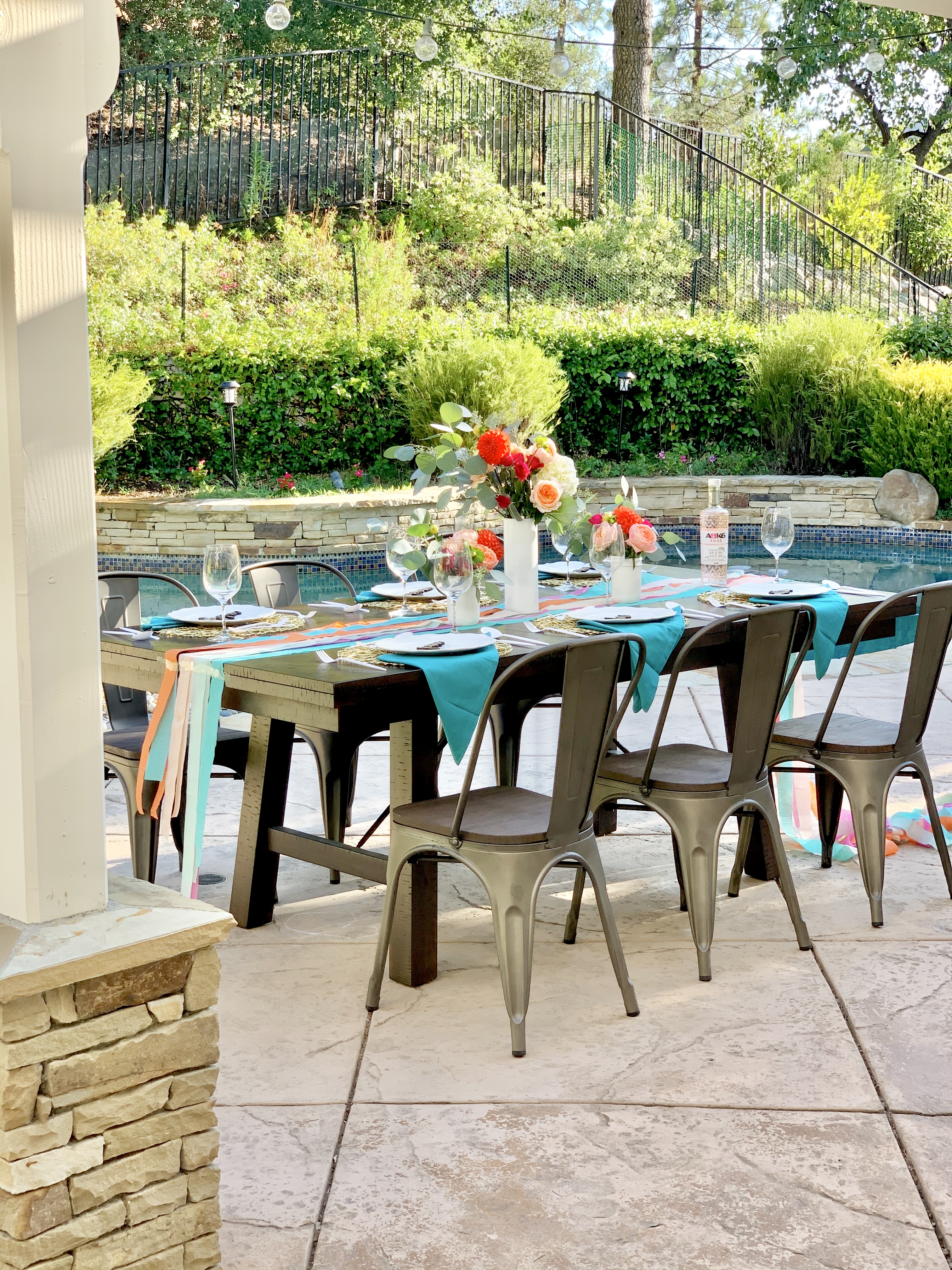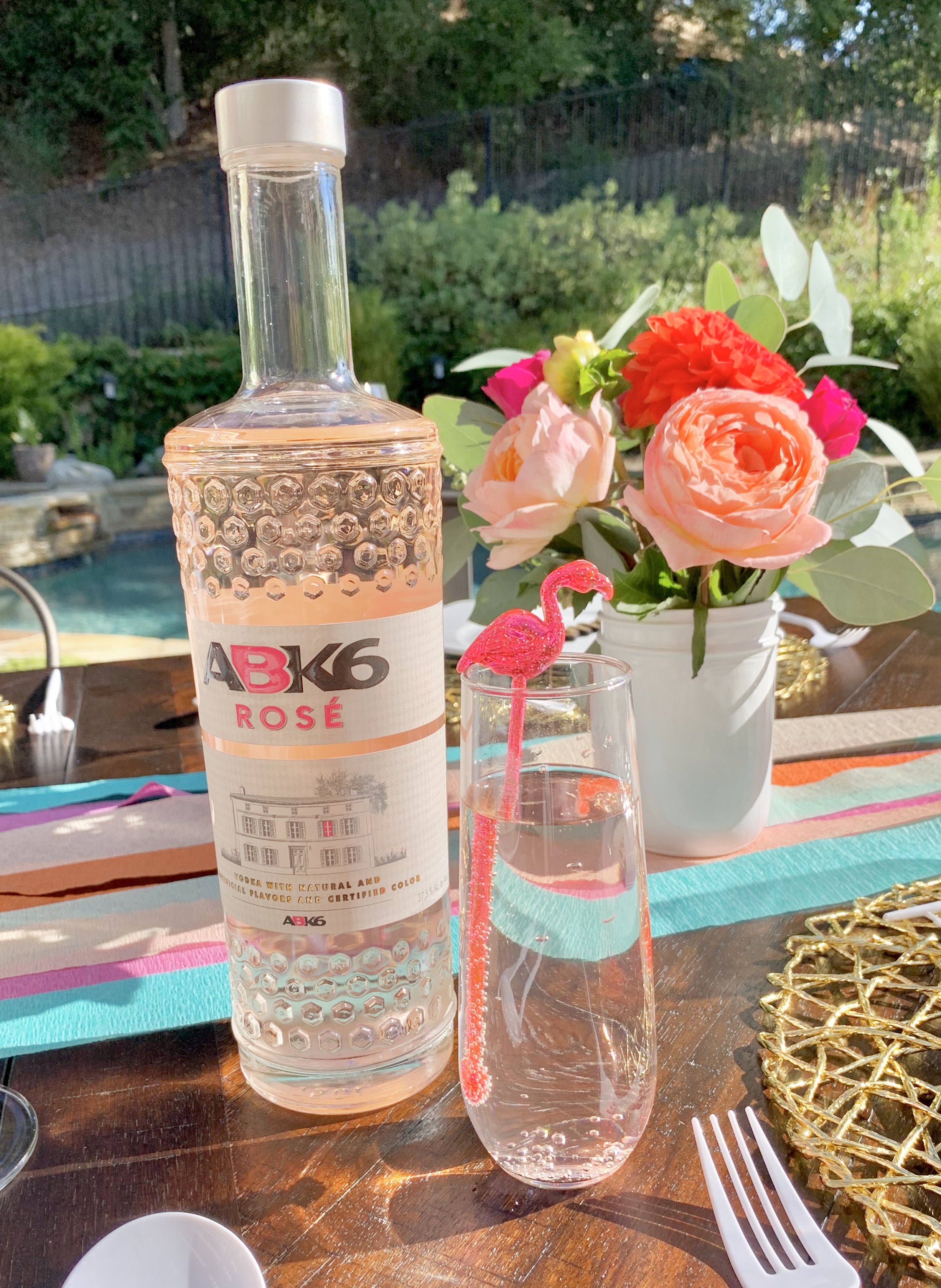 Edible gold glitter dust on my cherries!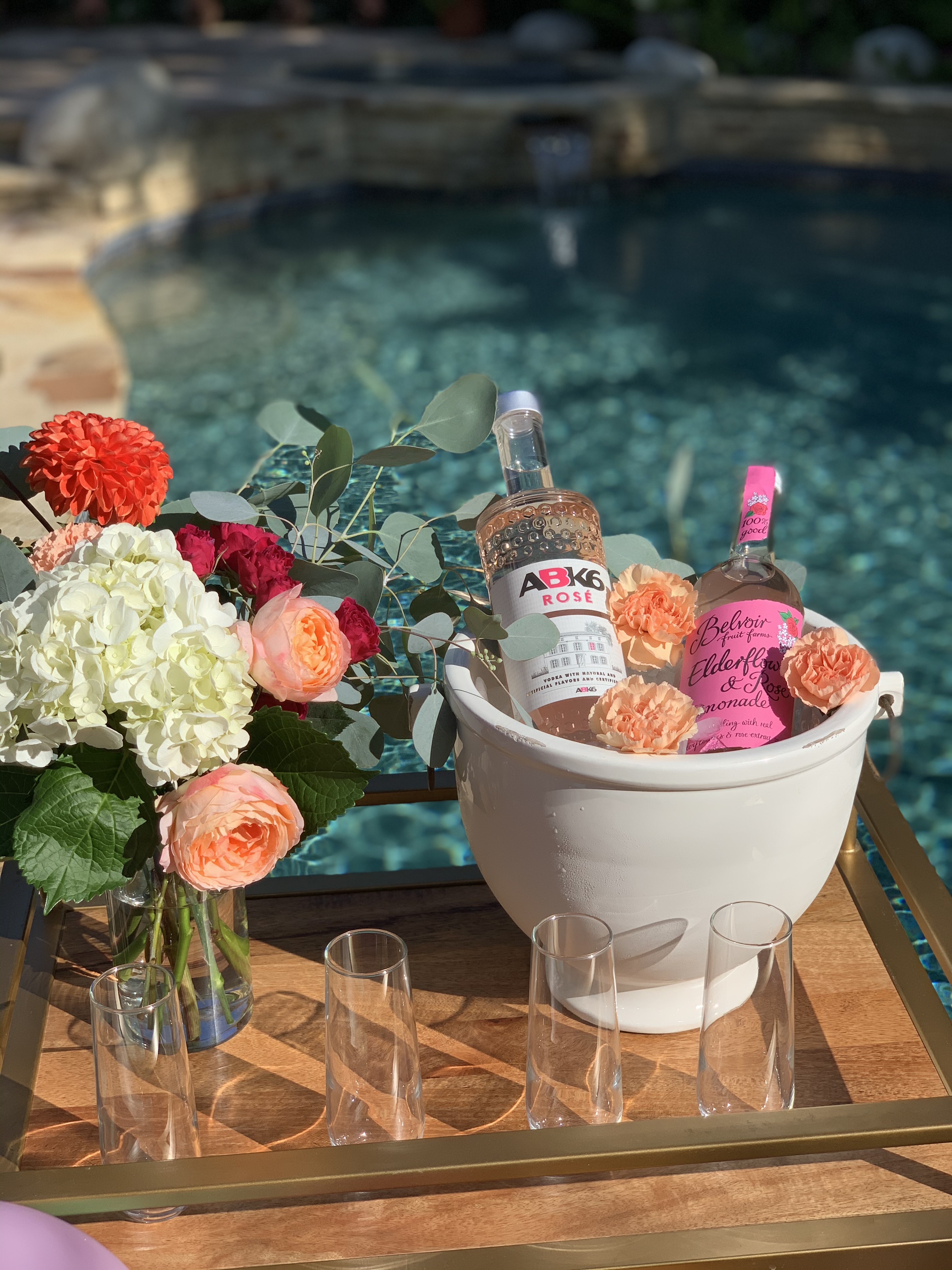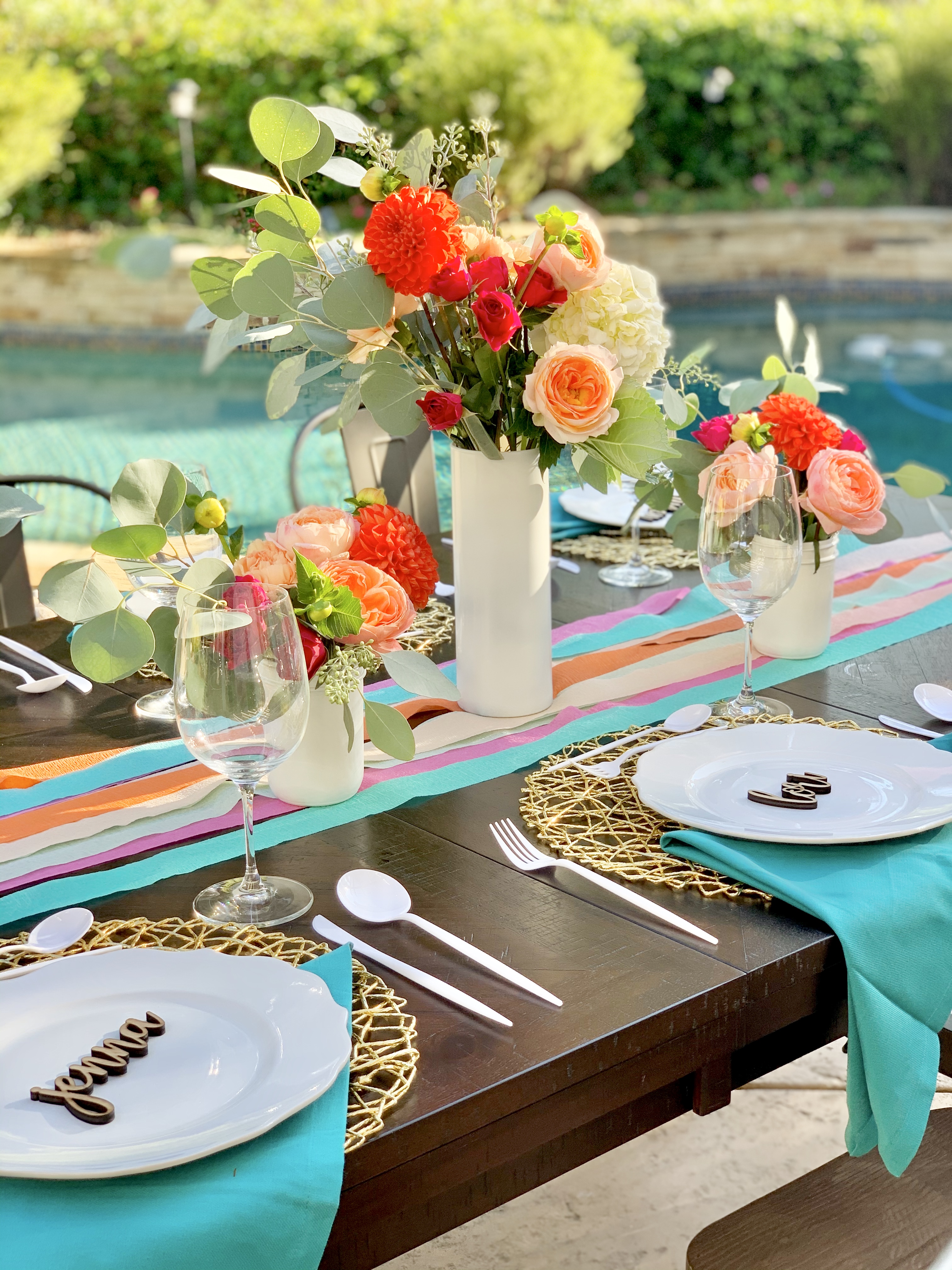 More Summer Ideas
Now check out these other Summer Fun ideas below:
The Busy Bee – Summer Hostess Gift Guide
It's More Than a Home – Zucchini Bread
Giggle Living – Simple Appetizers for Summer
Life is a Party – DIY Concrete Outdoor Table
Parties with a Cause – Surf Themed Party
Sunshine Tulip – How to make a Faux Cake with a Cherry on Top
Festive Fancy Frugal – DIY Summer Pineapple Stand