This may be my favorite sweet little party set up yet! I'd like to give you some gorgeous ideas for Spring and Easter! The Meri Meri psychedelic plates and cups inspired this party. And I'm reusing an epic rainbow backdrop that I will probably reuse forever and ever!
Discloser: Some of the links below are affiliate links. If you click through and make a purchase, I will earn a commission at no additional cost to you. See my Full Disclosure Policy here.
Table Setting
I just loved these 60's style hippie plates! There are a variety of patterns in each pack of plates and cups. I also used a Meri Meri scalloped plate with a small round Oh Happy Day plate to make a daisy! Each place setting had a peace sign bunny detail that I DIY'd, as well as a pair of flowery sunnies as a favor. One other DIY was a giant flower wand. I glued together coral yarn pom pom balls I made to some card stock to give a sturdy backing. Then used a white pom pom for the middle and glued a skewer as the handle. Of course my letter crayons add to the decor! Here I placed "Hippie Chicks" crayons on a cake stand with a disco ball!
Handmade crayons (Perfect for Easter baskets too!)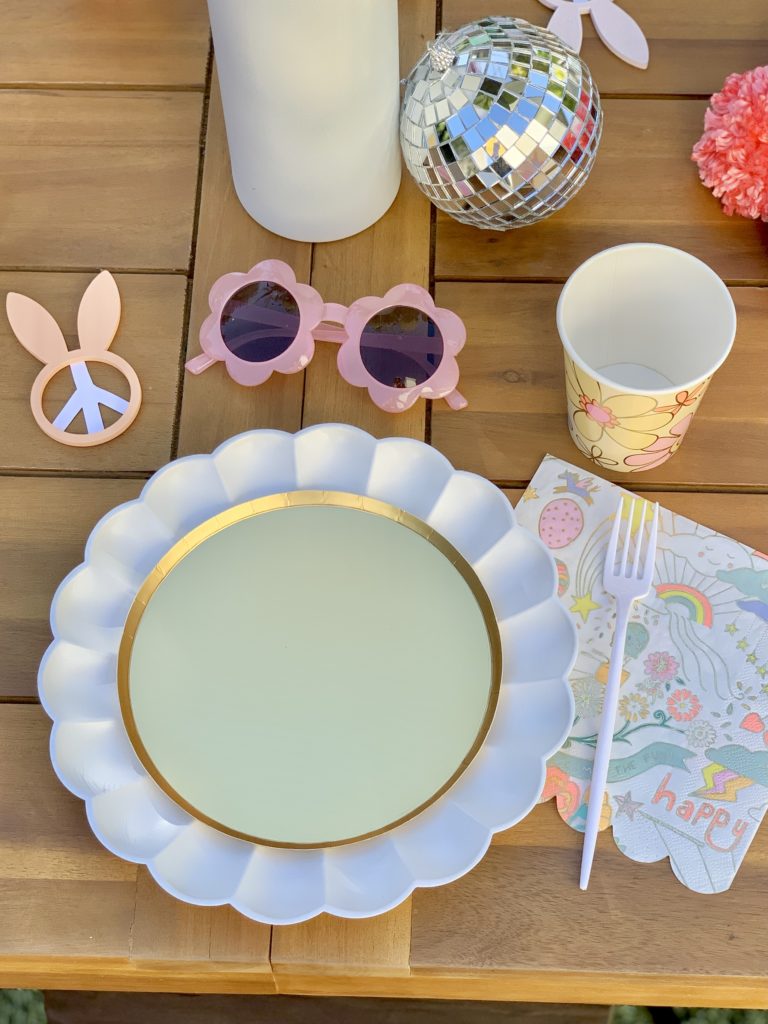 DIY Floral Peace Sign
For my floral peace sign, I used floral wire to create the middle lines on a gold hoop. Then used more wire to attach baby's breathe on the lines. Easy Peasy!
Treats
Claudia from One Celebration at a Time created these adorable Cakesicles for me. She totally nailed the hippie plus Easter vibe! I also created a peace sign candy board! All of the treats on the board came from Target.
Cakesicles by One Celebration at a Time
Don't Worry Be Hoppy Print by Thread Mama
Backdrop
Bringing back the rainbow fringe by The Stylish Detail brightened up the yard! I love the daisy and sun balloons as well! Just makes me want to sing "Here Comes the Sun".
Activity
I also had a painting activity for my daughter! I found that adorable retro van at Michaels and the bunnies at Target! Ellie's outfit and bunny headband also came from Target. I hope you have enjoyed these details and take away some inspiration for your own Spring or Easter celebrations! Who else loves the hippie vibe idea?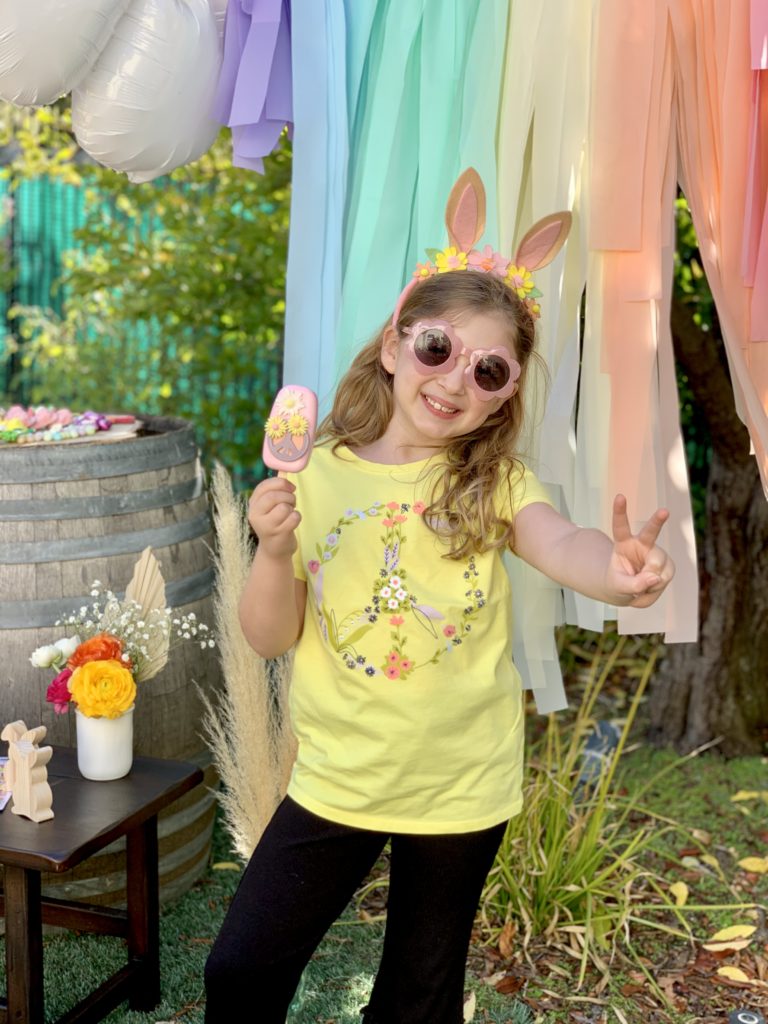 PIN for later: