Hi all! I've put together an easy Charcuterie board with a shopping list, as well as a Christmas cookie variety plate with links to all of the recipes! I even have a quick decor DIY for you! So basically this post is a mish mosh of holiday spirit!! HA!
Disclosure: Some of the links below are affiliate links. If you click through and decide to make a purchase, I will earn a commission at no additional cost to you. See my full disclosure policy here.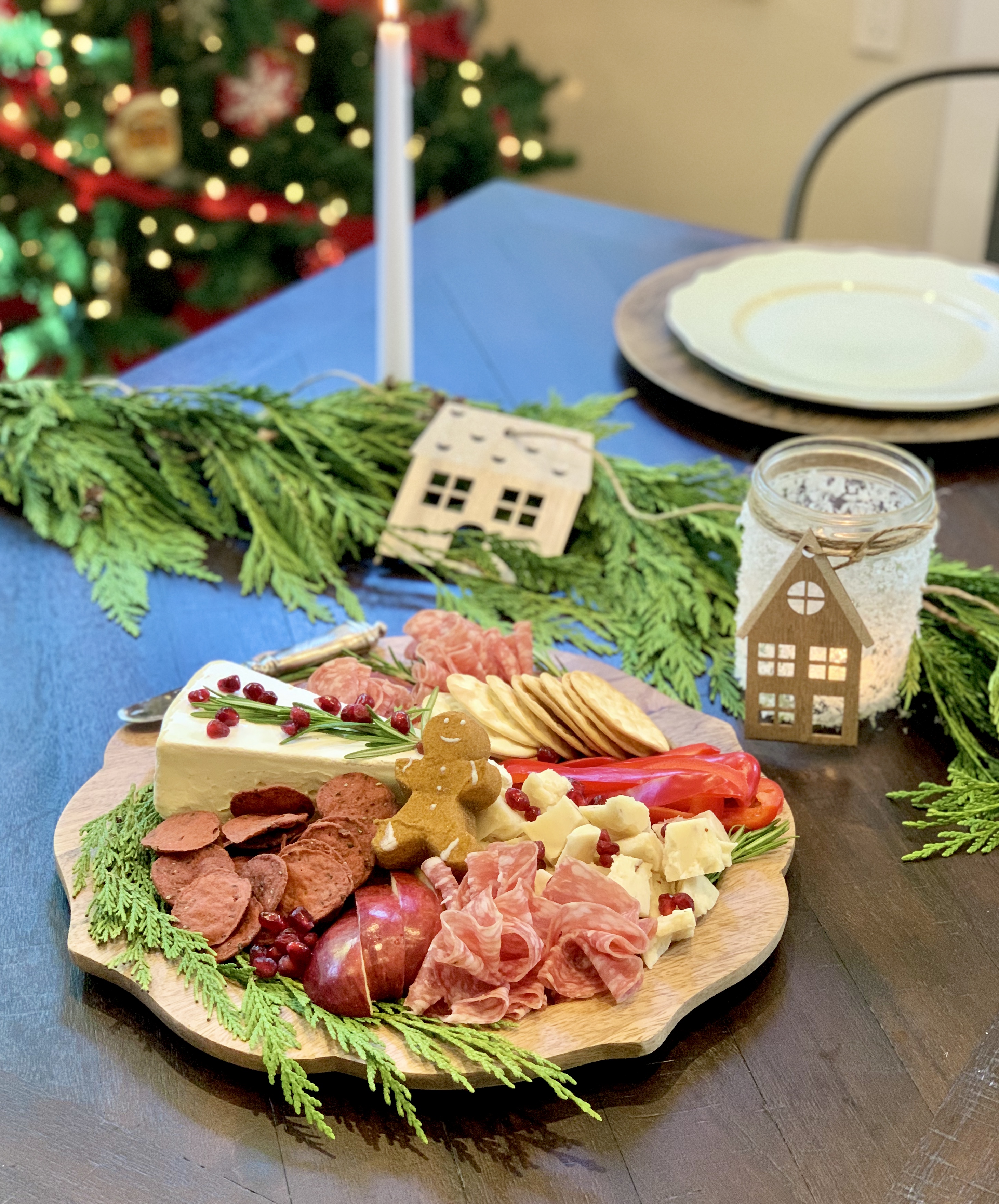 Appetizer Board
Ok, to start with the charcuterie board, below is a list of items from my board that you can get from Trader Joe's! My rules of good boards are 1 soft cheese, 1 hard cheese, a little fruit, a little veggie, a crunch and then accents to make it pretty. Haha. =) For this Christmas board, I tried to stick with all reds, whites and greens as well. Feel free to add in anything else you love, like nuts, olives, honey, etc.
Shopping List:
-Brie – pick out your favorite.
-Cranberry Cheddar block – great festive holiday flavor plus it's white and red – bonus!
-Uncured Salame Di Parma
-Trader Joe's 3 Seed Beet Crackers – They are actually quite good, red, and gluten free.
-Plain Water Crackers – always a staple in my opinion.
-Red pepper
-Red apples – goes great with the cheddar.
-Rosemary or other greenery to accent the plate.
-Pomegranates (Notice the rosemary makes a great "tree" and pomegranates decorate the tree)
I added on a gingerbread marshmallow man just because I had it and my tablescape had little wooden gingerbread houses. My scalloped wooden board is a charger from World Market. My board for my cookies is a charger from Pier 1. Always think of what you already have to use as serving pieces!
Cookie Board
On to the cookies! I linked the recipes I used if available. Again, I used greenery to accent the plate.
1. Chocolate Chip Cookies – I just added in Christmas Sprinkles and I use half regular flour and half cake flour.
2. Sugar Cookies with Buttercream & Sugar Cookies with a Marbled Honey Glaze – recipe from my Creative Cookie Decorating book by The Hutch Oven on IG, Emily Hutchinson
3. Cream Cheese Cookies by Pizzazzerie – I added some buttercream and sprinkles to the tops.
5. Chocolate Kiss Cookies – from Two Pees and their Pod website. I used the Hot Cocoa Hershey Kisses for these!
Creative Cookie Decorating Book
DIY Snowy Candle Mason Jars
An easy craft for your holiday table are these snowy candle mason jars! I saw a DIY from Jackie Ann Blog's Instagram stories and thought they were so cute! I had similar supplies on hand already and was looking for something to do with my wooden houses from the Target Dollar Spot. Check out her blog post to see how she created her!
For mine, I used a large mason jar, a sponge brush to cover it in modge podge, then rolled it in white snow vase filler. I pressed it on the whole way around and tapped off the excess. Then I let it sit over night. In the morning, I tapped off any excess snow flakes. Then wrapped the rim in twine and added my wooden house and tea light inside the jar. What snacks and treats and crafts will you be making this holiday seasons?!
PIN for later:
#charcuterie #cookies #Christmas #diycraft