My daughter has been asking for a kitten for a long time, and while we aren't ready to get one yet, we agreed on a cat themed birthday party. I have a few cute details for you to use for your own cat themed party!
Discloser: Some of the links below are affiliate links. If you click through and make a purchase, I will earn a commission at no additional cost to you. See my Full Disclosure Policy here.
Tablescape
Starting with the table, I knew I wanted to go glam. My daughter Ellie and I picked the colors of hot pink, lilac and black. Amazon ended up being my go to for this party. It was a one stop shop for almost everything, from decor to favors to activities to the birthday girls' shirt! On the table, I had cat ears for each child sitting on their cup.
My daughter had the idea of crafting up whiskers for each child as well. We got the popsicle sticks and pipe cleaners at Michaels and just cut the pipe cleansers to a few inch length pieces and hot glued it all together, with a pink paper nose. I got lilac reusable plates from Target that were 50 cents each! That ended up being cheaper than buying nice purple paper plates that just get thrown away. For the place setting, I tried to make the charger look like a cat with paper palm leaf cat ears I DIY'd. I also DIY'd some yarn balls that were inspired by Tisha from Little Party Girl Co. I used those throughout the party as decor!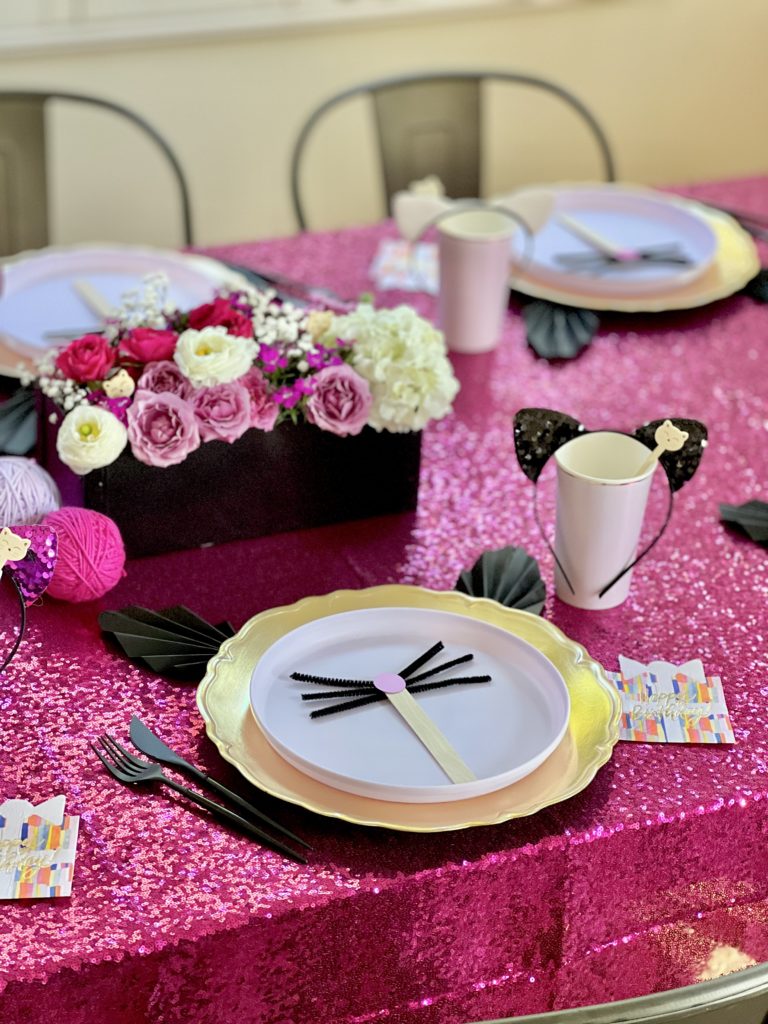 Backdrop
The main backdrop was quite a statement piece but easy to put together! I had a large hoop that I put a mini balloon garland around. I used floral wire to hold it down to the hoop and give it the circular shape. It wasn't perfect, but definitely turned out great for the party! Black poster board was for the ears and whiskers and just taped those to the wall. Ellie had requested "Kitty Queen" as her banner phrase. HA! So I made a simple banner in our color scheme.
Desserts
For Ellie's cakes, we had two. One that we made, because Ellie insisted on it. And one we had a baker friend make us that looked like a cat face! We had enough guests coming, that 2 cakes were needed anyway. Both turned out so cute! The one we made had an "8" topper that I found on Amazon. I also made cupcakes with mini yarn ball toppers. They were adorable!! And cat face cookies and rice krispy treats.
Party Favors & Activities
The party favors were little plush cats in box houses. I did have a few plush dogs as well only because Amazon was out of stock for more cats. Houses were made for them out of treat boxes. This idea is from Emily Entertains. I made party hats for all of the animals as well. It was not fancy, but it up'd the cuteness factor.
I included an activity along with this. As the kids chose their pet to adopt, they also could make a collar from beads and pipe cleaners, which were from The Dollar Tree. The beads were in small cat shaped bowls! For decor, I included a couple yarn balls in the balloon garland and made cat faces with black honeycomb balls and more paper palm ears.
The other activities were a tattoo station, piñata and cookie decorating. For the cookie decorating, I made boxes for each child with cat face sugar cookies, a frosting piping bag and small container of sprinkles that included candy googly eyes! I hope you enjoyed all of the Cat Party details! What was your favorite part?!
Plush Dog Favors (Cats are out of stock)
"Make a Collar" Printable Sign