When your bestie decides to move her life across the country away from you, you immediately cry for hours! But after it sinks in, and you realize it's the best decision for her and her husband, you send them off with an amazing farewell fiesta party of course!
First, I LOVE fiesta colors! So vibrant! Second, I think that incorporating personal touches to parties is so important; and knowing my BFF, a photo booth was a complete must have! Sombrero hat, honeycomb balls, and tissue fringe garland made for a fun and festive backdrop. For an easy, handmade banner, go here!
If you are going to have a Photo Booth, I say you must have props! It's so much fun! I even printed out a photo of the guests of honor and put them on prop sticks! Ha! Grab a prop and say queso!
Home made churro cupcakes! And margaritas are a no brainer!
Margarita glasses with mustaches! =)
Use limes as menu card holders!
I made a station for guests to write a favorite memory of the guests of honor and they would read them on their cross country road trip!
Lots of colorful flowers decorated the tables! Mini piñatas were found at Target! And small vases were made from Mexican refried beans cans.
"Fiesta like there is no Mañana" sign from The 36th Avenue – Free Printables. Click here! Table runners are from Party City!
I cut party streamers into fringe around mason jars for utensil holders. It's still one of my favorite tiny features of the party!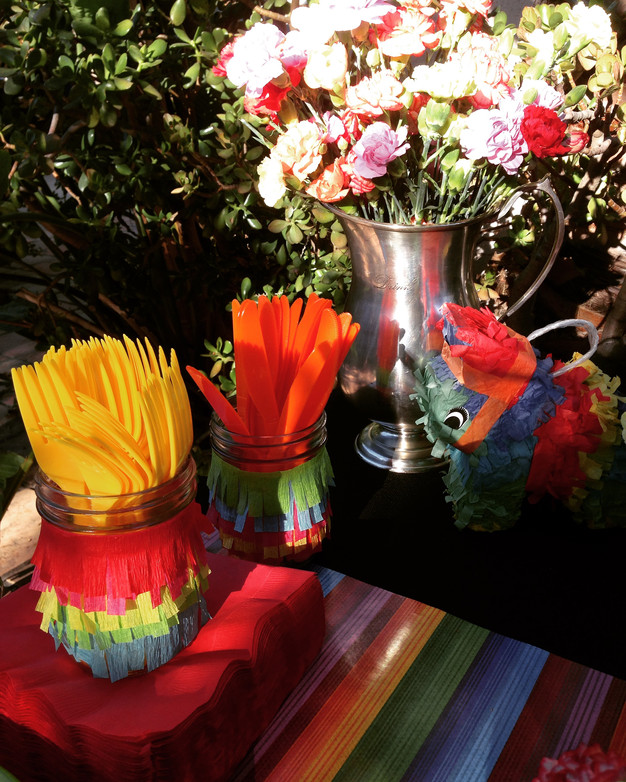 Use old tequila bottles as vases! I hope you enjoyed the fiesta and got some inspiration!